Welcome to the 1969 Chevy Chevelle Project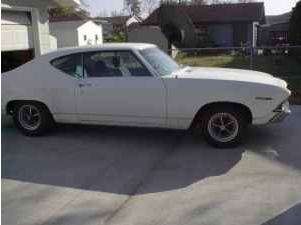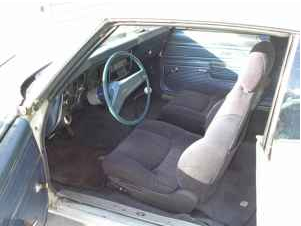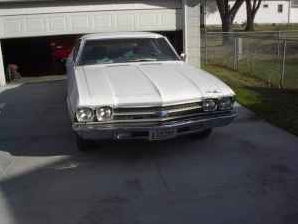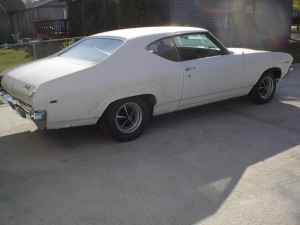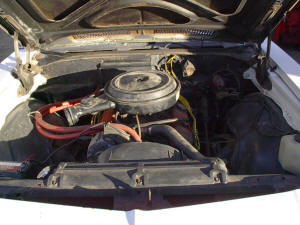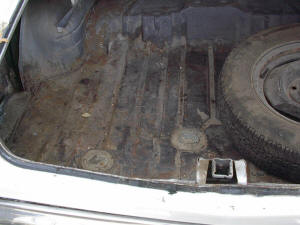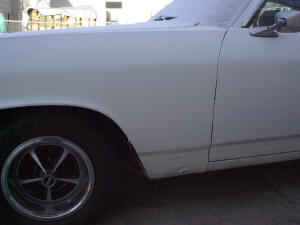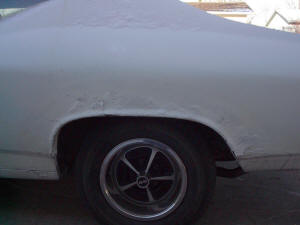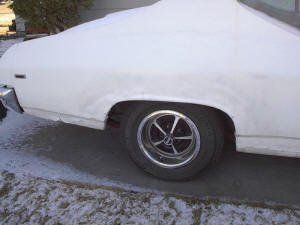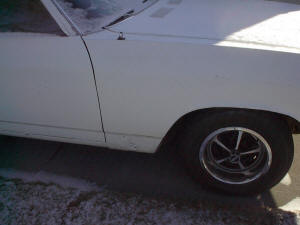 These are the original pictures of the car as purchased.
The car was purchased January 22, 2012 in Fargo, ND. The story behind the car is that it belonged to a guy in Fargo that owned a parts store and used it for deliveries of parts. It originally had the 3 speed on the column, but was replaced with a 4 speed on the floor. The original color was a silver before its white paint job. The car has the typical rust around the rear wells and bottom front corners, but it is very clean and rust free otherwise.
Plans for the car are a body off restoration and mild street machine build. The 350 small block will be replaced with an original 69' 396 big block and keep the 4 speed transmission. The SS rally wheels will be sold and custom rims and BFG Radial TA's will be installed.
1/27/11
I started ripping the 396 apart and while getting ready to order parts, I decided to run the numbers and found out that the motor is composed of:
Block 3999290 Mark IV Series 402 Block, Hi Performance Pass (396 bored .030" (4.095" + .030" = 4.125"))
Bored out to 4.165 (4.125 + .040" = 4.165") with Keith Black KB160 .040 Hyper Pistons. Compression ratio = 9.33:1
Crank N3904816 Mark IV Series 427 Nodular Crank .030" under mains, .030" under rods, balanced
Heads 3931063 Pass - oval port closed chamber 100.8cc from 69 396 or 427 cid - 390 or 400 hp
Pistons Keith Black KB160 Hyperutetic -17cc dome
Internals:
Northern Auto Parts
Main Bearings: Clevetite H - CLE-MS829H30 $104.95
Rod Bearings: Clevetite H - CLE-CB743HN30 $91.60
Rings: Keith Black Iron Rings UEM-4125AM8-040 $82.95
Gasket Set: Fel-Pro FEL-KS2618 $65.95
Summit Racing
Intake: Summit Dual Plane Stage 2 SUM-226024 $209.95
Cam / Lifters: Comp Cams Thumpr Cam CCA-CL11-601-4 Hydraulic Flat Tappet, Advertised Duration 287/304, Lift .510/.495, Big Block
Basic Operating RPM Range: 2,000-5,900 $199.95
Break In fluid: Comp Cams Break in fluid CCA-159 $10.95
Timing Chain: Comp Cams CCA-210 $37.95
Oil Pump: Melling M-77HV - Melling High-Volume Oil Pump MEL-M77HV $39.95
Carb: Model 4160 750 cfm, Square Barrel, Vacuum, Dual Inlet, Silver HLY-65-3310S $249.95
2/1/12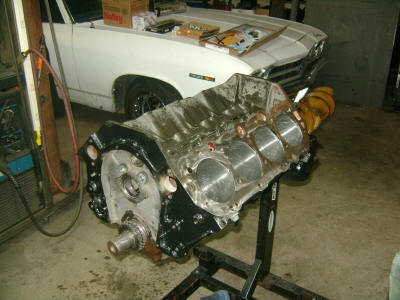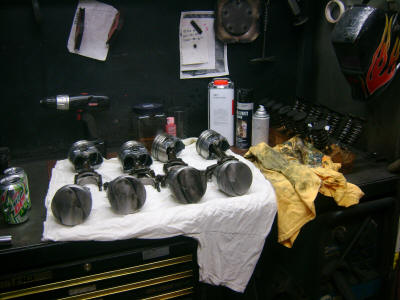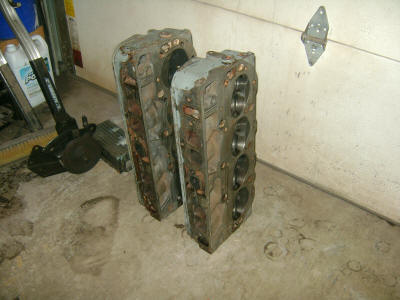 New parts have arrived and parts are starting to go together. The block was honed and cleaned and painted black. Since the pistons were like new, they got re-used along with the balanced rods. The heads got a valve lapping and will be assembled with new Comp Cams valve springs.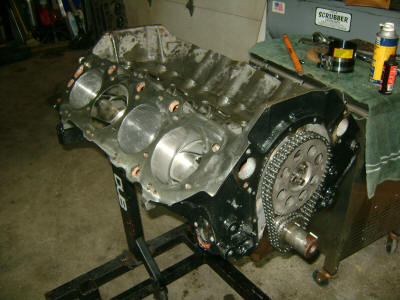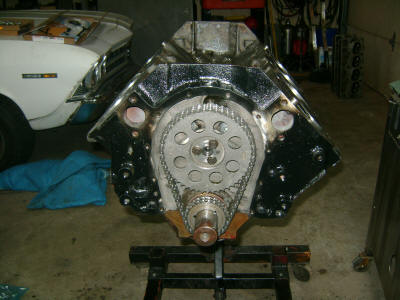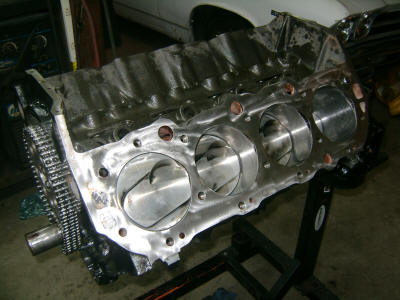 The crank is in along with the pistons. Cam is in and timed.
2/2/12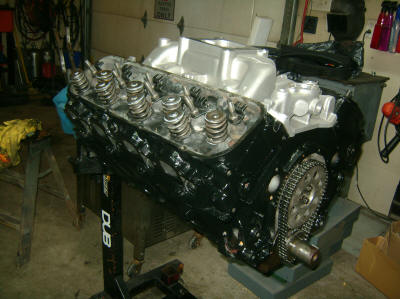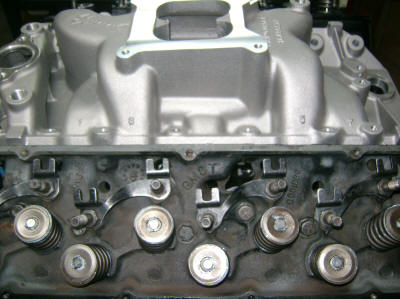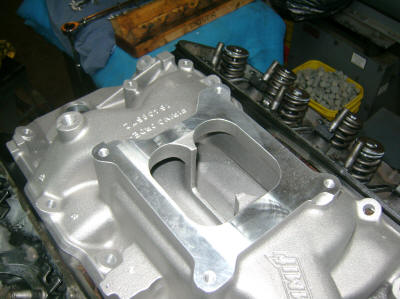 Heads were completely stripped apart and redone. Comp Cams push rod guides and screw in studs. Summit Racing intake installed and test fit.
2/4/12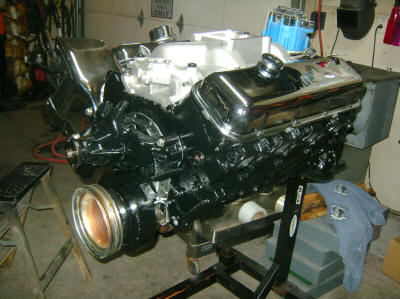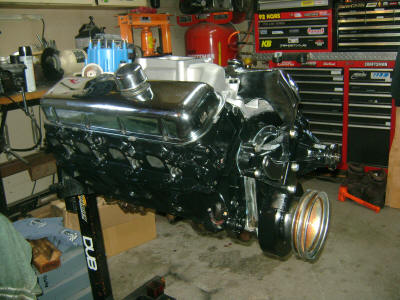 The engine is pretty much done and ready for transplant. The front clip will come off first to fit the big block in. Once it is in, then it will come out and go on the cart for storage while we strip the rest of the car apart.
2/7/12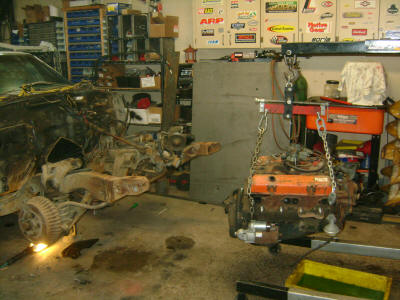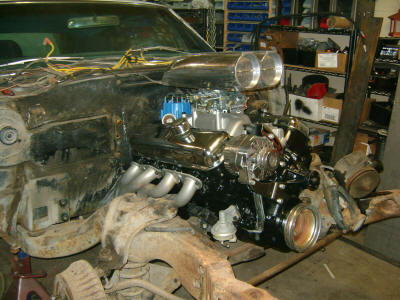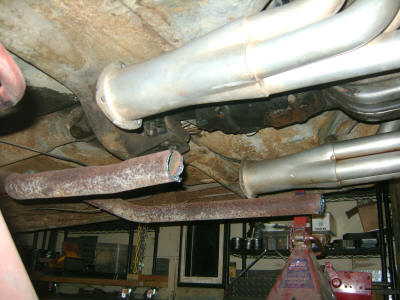 Out with the old and in with the new. The first test fit of the big block went really well. The headers even fit in with minimal dimpling. I can see already that this thing is going to want to breath thru 2 1/2" or even 3" dual exhaust. The 1 3/4" on there is just not going to cut it. The shotgun air cleaner will not be used, but it was fun to throw it on to see how it looks.
2/8/12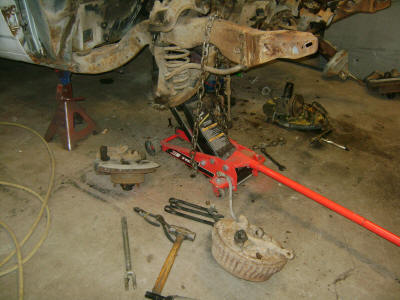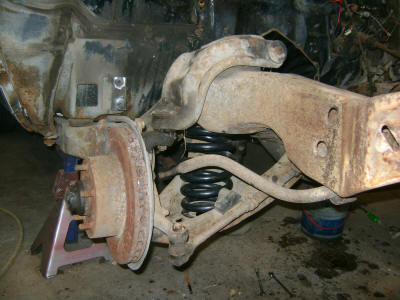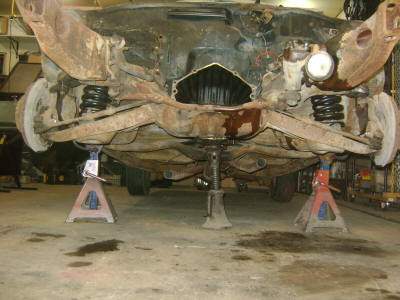 The motor is back out and in storage until the frame is blasted and completed. After the motor came out it was time to change over the front end to disk brakes. They are off a 72 Chevelle and will bolt right on. I also installed Elgin 6330 matched springs which are for the 69 A-bodies with big blocks. Let me tell you, they are one stiff spring.